Dunsbury Hill Farm site development in Havant to start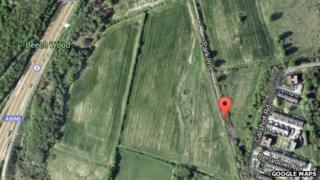 Work on a new "business gateway" development is to begin on what one wildlife group calls "one of the last substantial green areas" in Hampshire.
Portsmouth City Council will build industrial sites and offices on Dunsbury Hill Farm in Havant.
The council said it would re-home protected wildlife including reptiles, bats, badgers, dormice and water voles.
Hampshire & Isle of Wight Wildlife Trust said it hoped the council would "live up to their word".
'Economy boost'
The trust said the 106-acre (43-hectare) greenfield site, owned by the Liberal Democrat-run council, "is a place of woodlands, small fields and big hedges and a part of the historic Forest of Bere".
The council said it hoped to create 3,500 jobs and that the development "represented a rare opportunity to boost the local economy".
Contractors will begin clearing trees and re-homing some of the protected wildlife from Monday, in preparation for the road access works.
The trust said it initially objected to the plans as there was "little certainty" over safeguarding wildlife, but that conditions in the planning decision included "the security" it had asked for.
A spokeswoman added: "We will have to wait and see what the council will do before we can make any further comments."
Other objections to the plans concerned the loss of trees, the impact on a nearby Site of Special Scientific Interest and traffic pollution.
Havant Borough Council approved the plans in 2013.