Southsea's South Parade Pier 'will not be demolished'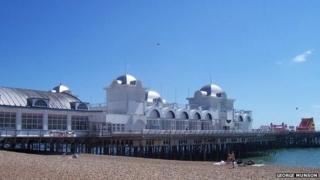 A Victorian pier, which has been declared unsafe and closed for the past two years, will not be demolished, according to Portsmouth City Council.
On Monday, magistrates ruled the pier had to remain shut and gave the owners until 12 November to carry out repairs.
The council has claimed the pier, which is in a state of disrepair, has new owners but would not name them.
However, the defendant listed as appearing at court was still The People's Pier Southsea Ltd.
This suggests no change of ownership has taken place as Frederick Nash and Dawn Randall are still listed as the only two directors of The People's Pier Southsea Ltd.
The BBC understands Southsea entrepreneur Lawrence Mendel is behind a consortium of businessmen who have been intending to buy the pier and turn it into a music venue.
But community group South Parade Trust, which is trying to save the pier, says the ownership has not yet changed even though co-owner Ms Randall claimed in March it had been sold.
Her firm was also ordered to pay costs of £3,855 to Portsmouth City Council at Monday's hearing.
Portsmouth Magistrates' Court would not confirm who appeared in court.
'Complete nonsense'
Council solicitor Michael Lawther said: "We have a duty to protect the public from dangerous structures.
"The court told the owners of the pier that they have to put up a barrier around it, to protect the public from falling debris.
"The court also ordered that the pier must be closed to the public until the court orders it can be opened."
He said the court's ruling had included a "standard legal phrase" allowing the owners to demolish the dangerous part of the pier, instead of putting up the barrier.
However, as the pier is a listed building the owner would need if permission from the council.
Mr Lawther said: "The council can't foresee any circumstances in which it would grant permission for the pier, or any part of it, to be demolished."
Leon Reis, chairman of South Parade Trust, said: "It's complete nonsense.
"The council's solicitor cannot pre-judge any demolition decision taken by a planning committee, which may very well decide to demolish the pier.
"A listed building can be demolished if a decision is taken to appeal against that and the case is won."