Florence Nightingale West Wellow tomb repairs after storm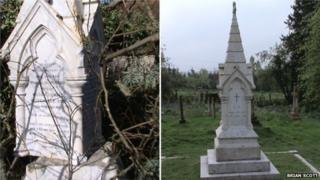 The tomb of nursing pioneer Florence Nightingale has been repaired following damage during the St Valentine's Day storms.
A tree fell on the 10ft (3m) high memorial at St Margaret's Church, East Wellow, Hampshire, during high winds.
It has now undergone £3,000 of repair work, which included removing the tree.
The annual commemorative service took place at the church earlier and included a thanksgiving prayer for the restoration of the tomb.
Upper parts of the stone monument were broken by the fallen tree, which also dislodged it from its plinth.
Vicar of St Margaret's Rev Chris Pettet described the damage as "devastating" and said it was important to get it repaired quickly because it was an "international" monument.
"Hundreds of people from all over world, including students and nurses from Japan and America, and school groups, visit the grave each year.
"We feel we have a responsibility to keep it in good condition," he said.
A wreath was laid at the tomb, where Nightingale's parents William and Fanny are also buried, after the service.
Nightingale, born in 1820, was renowned for her work during the Crimean War. She was buried at St Margaret's Church after her death in 1910.
Her family lived at Embley Park, near Romsey, which is now the Hampshire Collegiate School.