Visitors ignore collapsed Solent Way cliff path signs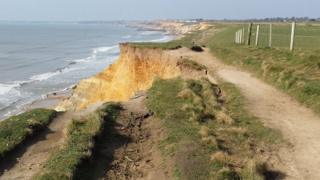 A coastal section of the Solent Way path in Hampshire has been closed after erosion reduced it to a few feet wide.
Winter storms caused the cliff path between Barton on Sea and Milford on Sea to collapse in two places, leaving a narrow gap between the boundary fence and the cliff edge.
Despite signs warning of the closure, people are continuing to use the path.
The county council urged visitors to adhere to signs, which have been put in place in the interest of public safety.
'Alternative route'
Culture and recreation councillor Keith Chapman said: "The Solent Way footpath that runs between Barton and Milford is particularly sensitive to erosion.
"We are working with landowners and all interested parties in relation to the cliff closure to provide an alternative route."
In February, 32 people had to be rescued from the Marine Restaurant in Milford after being trapped by surging flood water. About 600 beach huts in Hampshire and Dorset were also destroyed in the storms.