Royal Navy Spinnaker Tower abseil for centenary project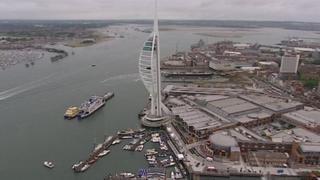 Members of the Royal Navy have abseiled down Portsmouth's landmark Spinnaker Tower to raise money for a project charting the service's history over the past 100 years.
The £4.5m HMS Hear My Story galleries opened at the National Museum of the Royal Navy at Portsmouth's Historic Dockyard on 3 April.
They recount the experiences of more than 1,000 servicemen and women.
Exhibits include the gun that fired the first shot of World War One at sea.
HMS Lance's 4in (100mm) gun, which weighs 3.6 tonnes, fired the first British shot of the war, on 5 August 1914.
As part of the centenary project, the Royal Navy has also launched a temporary exhibition at the museum devoted to the outbreak of World War One, and reopened World War Two-era submarine HMS Alliance in Gosport after a £7m restoration.
Vice Admiral Sir Anthony Dymock and Second Sea Lord Vice Admiral David Steel abseiled down the 170m (560ft) tower, along with a number of other charity abseilers.