Tacks thrown on route of New Forest Spring Sportive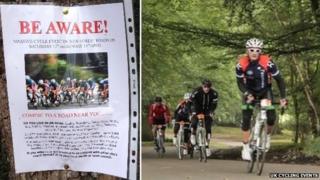 Fifteen cyclists suffered punctures after tacks were laid at a mass cycle event in the New Forest.
Campaigners opposing the Spring Sportive had put up posters prior to the event, which attracted more than 2,000 cyclists on Saturday and Sunday.
Police were alerted after tacks were dropped on Braggers Lane near Bransgore on Saturday.
Organisers UK Cycling Events said the disruption was "surprising and disappointing".
Director Martin Barden said a new route and extra marshals had been introduced in response to concerns raised.
"The majority of locals residents were extremely supportive of the event, and the riders really appreciated them clapping and cheering them on as they completed the course," he said.
'Tranquil locality'
"It was surprising and disappointing to see a handful of anti-cycling campaigners trying to disrupt the event again this year by throwing tacks on to the road on several occasions."
No-one was injured as a result of the attempted sabotage.
Hampshire police said the tacks were removed and officers conducted house-to-house inquiries.
A spokesman for the New Forest National Park said the incident was "shocking".
"There can be no justification for such acts that may cause accident or injury," he said.
"The event was closely monitored and, whilst we have heard reports that the behaviour of a minority of cyclists was unsatisfactory, the large majority behaved well and followed the New Forest Cycling Code."
A draft charter for event organisers is due to be discussed by the authority's cycling liaison group on 29 April.
The cyclists travelled a route of up to 84 miles (135km) on roads and lanes in the national park.
Campaigners opposing the event had put up posters saying it was an "abuse of our tranquil locality" and warning visitors that they may be "at risk as they go about their daily lives".
There were also reports of tacks being thrown at the same event last year. Signs were also removed and a road blocked by protesters.
The New Forest Equestrian Association, which has previously expressed concerns over mass cycling events, said placing tacks on the road was "unbelievably stupid".
A post on its Facebook page said: "The sensible response to worries about New Forest roads isn't to make them more dangerous."