Cowes policeman dives into sea to save woman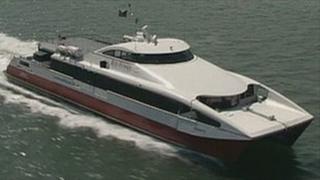 A woman who jumped into the sea after being refused aboard a ferry was saved when a policeman dived in after her.
He stripped off his uniform and dived off Red Funnel's Cowes terminal, holding her as they were swept down the harbour by the tide, witnesses said.
An RNLI spokesman described how the "heroic" officer managed to get the woman to safety on the Island Sailing Club pontoon amid strong currents.
She was treated at the scene and taken to St Mary's Hospital in Newport.
The incident took place just before the departure of the 17:15 Red Jet from West Cowes on Saturday.
'Heroic ducking'
Red Funnel said: "A female passenger who had not purchased a ticket, jumped off the pontoon twice after being refused boarding.
"She was rescued from the water both times - the Red Jet was safely tied up at the time and no other passengers were at risk.
"A full investigation is taking place."
The RNLI spokesman said the woman was initially "unresponsive" when pulled from the water.
He added: "She was assessed, given oxygen, warmed and conveyed by stretcher to a waiting ambulance.
"The policeman, wrapped in blankets, was taken to the lifeboat station to recover from his heroic ducking."
Hampshire Constabulary said it was not commenting on the incident.