Bus company apologises for 'stunning females' tweet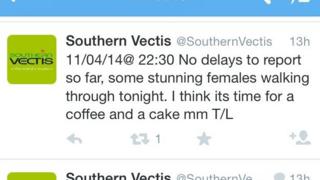 A bus company on the Isle of Wight has apologised after an employee made reference to "stunning females" on its official Twitter feed.
Southern Vectis said it was aware of an "inappropriate tweet" posted on Friday which had since been removed.
It had said: "No delays to report so far, some stunning females walking through tonight."
Isle of Wight councillor Chris Whitehouse said the comment was "blatantly sexist".
The Conservative member for Newport West said: "The women of the island deserve better than to be ogled and tweeted about in such a crude, crass and chauvinistic manner."
Southern Vectis general manager Matt Kitchin said it encourages staff to post in a "friendly and human manner".
"We acknowledge that this tweet was completely unacceptable and we apologise, unreservedly, for any offence it may have caused."
He added the matter was being dealt with internally.