Alex Thomson receives freedom of Gosport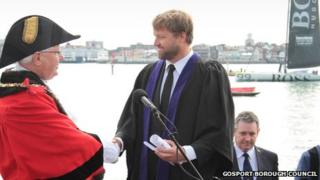 Round-the-world yachtsman Alex Thomson has been given the freedom of his home borough.
The 38-year-old became the fastest Briton to sail single handed, non-stop around the globe, when he finished the Vendee Globe race in 2013.
A flotilla of boats welcomed him back to the Solent after the race.
He described the award of the freedom of Gosport, Hampshire, which he received in a waterfront ceremony, as "an amazing honour".
Thomson is only the third Briton to achieve a podium finish in the Vendee Globe race, completing the circumnavigation in 80 days, 19 hours, 23 minutes.
'Great fun'
He crossed the finish line of the 24,000-mile (38,624 km) race, known as the "Everest of Sailing", in Les Sables d'Olonne in third place on 30 January 2013.
At the height of the race he paused during poor weather to ensure the safety of French competitor Jean-Pierre Dick after he lost his keel.
During his 20-year sailing career, Thomson became the youngest skipper to win a round-the-world event when he won the Clipper Race in 1999.
The following year he won the Round Britain and Ireland race.
He said: "It's been a long road - very successful and great fun."
"The freedom of Gosport is an amazing honour, I'm very proud of this town and I always come back here. It's got everything - great beach, great sailing, I really love the place."