Buckskin residents demand flooding answers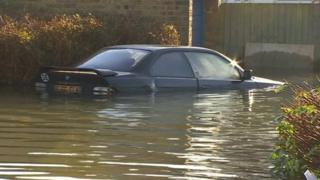 Residents on a Hampshire housing estate flooded with polluted groundwater in February are demanding to know why they were so badly affected.
More than 80 houses were evacuated in Buckskin, Basingstoke and 77 million litres of floodwater pumped out.
Many residents had to stay with friends or in hotels.
Now they have written to the borough and county councils to ask if they were aware of the flood risk before the bad weather hit.
'Angry and devastated'
A group of residents are sending a dossier to Basingstoke and Dean Borough Council and Hampshire County Council setting out details of "early warning signs" dating back several years which they feel were ignored.
Resident Maggie Hardy said: "Since 2008 they've ignored what they were told and people are angry, they're devastated - what more can I say.
"They're horrified. That's a long time to know something and not put any plans into action to prevent it from happening. They ought to be ashamed of themselves."
The borough council said a review was under way to establish what "lessons can be learned".
Groundwater in Buckskin began to overwhelm the drainage system on 8 February and the area remained flooded for more than a month.