Cocaine pear juice death: Five people released without charge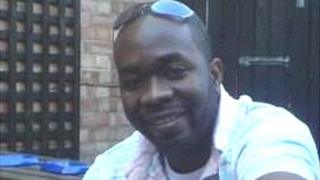 Five people arrested in connection with the death of a man who accidentally drank pear juice laced with cocaine have been released, police have said.
Joromie Lewis, 33, died on 5 December shortly after drinking the Caribbean-made juice at a Southampton warehouse.
Two men and a woman from Southampton and two London men were arrested on suspicion of drug offences. No further action will be taken against them.
Hampshire Police said its investigation was continuing.
'Wholly innocent'
Laboratory analysis showed the bottle of Cole Cold Pear-D contained a lethal amount of cocaine.
Officers previously said the bottle was part of a consignment manufactured in the Caribbean and brought into the country by the import-export company that Mr Lewis was working for.
They described it as a known method used by drug-smugglers to bypass border checks.
Mr Lewis, a Royal Navy veteran, lived in Gosport, Hampshire, and originally came from St Vincent and the Grenadines.
Police previously described him as "wholly innocent."
A Food Standards Agency alert for shops to withdraw the drink if they find it remains in place.