MP Robert Syms calls for end to Poole 'sex doll' parties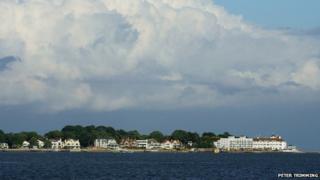 Blow-up sex dolls and naked butlers at hen and stag parties in Poole could lead residents to take the law into their own hands, an MP has warned.
Luxury homes, some worth millions of pounds, in areas such as Canford Cliffs and Sandbanks, are being rented out by firms including Poole's Deluxe Holiday Homes.
MP Robert Syms said neighbours "pray for rain" to keep the parties indoors.
The company said it "deeply regretted" any inconvenience caused.
Residents have called for an end to the raucous parties, which they say have made their lives a "misery".
One resident said anti-social behaviour has occurred, on average, every other weekend for the last three years.
Jen Cameron, who lives in Canford Cliffs, said: "We've had an onslaught of noise [and] alcohol-fuelled behaviour.
"It's screaming, it's shouting, it's kicking things over. It's emptying hundreds of glass bottles into the recycling bin, it's football at 3am.
"It's money making at the expense of local residents' sleep. It's at the expense of local residents having a community."
Mr Syms, conservative MP for the town, is to meet with Eric Pickles, the Secretary of State for Communities and Local Government, later to ask if there is legislation the council can use to stop the parties.
"Constituents are fearful on Friday afternoon to have a look at these homes and see the number of cars which have come in," he said.
"They pray for rain because people stay inside rather than stay outside; they know there's going to be anti-social behaviour."
Mr Syms said some of the websites through which Poole properties were being advertised were offering a number of associated services.
"If you are a hen party you can rent a naked butler, which causes some concern when they are serving drinks on a hot afternoon in the garden," he said.
A number of property owners use Deluxe Holiday Homes to rent out their properties when they are not there.
The company's portfolio includes houses in Canford Cliffs, Sandbanks, Branksome, Lilliput and Ferndown.
They are often rented out, sometimes for more than £500 per night, by large groups of people for events including stag and hen parties - 30 or more people can often attend.
Other firms charge up to £1,250 for a weekend night.
'Tremendous sympathy'
Spokeswoman Michelle King said the company took its responsibility to neighbours "very seriously".
"[We] deeply regret any inconvenience that may have been caused to residents in the Canford Cliffs area.
"[We have] consistently sought to prevent this by only renting to mature groups. [We] welcome hearing about any problems."
In a statement, Borough of Poole Council said that since 2011 it had received 16 complaints from residents in relation to noise nuisance from six such houses.
"We have tremendous sympathy for the residents affected but, as it is very unpredictable, the powers available to us are currently limited," the council said.
"However, we are continuing to explore every avenue to deal with matter effectively."