Large construction site fire in Southampton city centre 'an accident'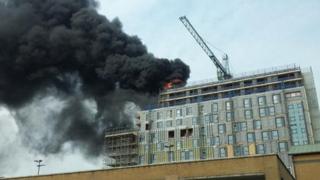 A large fire on a construction site in Southampton was caused by workers "inadvertently" igniting roofing material, the fire service has said.
Around 70 people were evacuated from the partially constructed student halls of residence on Commercial Road in the city centre just before midday.
Hampshire Fire & Rescue confirmed the accidental fire caused two explosions.
The blaze also led to the evacuation of the nearby Mayflower Theatre and was extinguished about 12:50.
Around 85 firefighters dealt with the fire at Block B of Mayflower Halls, which was due to house about 1,000 University of Southampton students from the autumn.
Developers Osborne said it could not confirm when the site would reopen but the workers were unharmed and were evacuated in less than five minutes.
Following an investigation, Hampshire Fire & Rescue incident commander Jerry Leonard said workers "were doing some work on the roof of the building and, unfortunately, inadvertently set fire to some of the building material they were using".
He added one explosion was caused by a small propane gas cylinder and the other by a fire extinguisher workers initially used to tackle the blaze.