Students criticised over Tesco donkey stunt on Twitter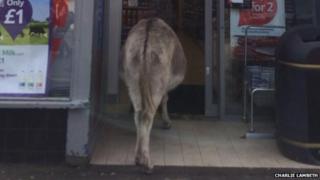 Students at a Hampshire college have been criticised for enticing a donkey into a branch of Tesco Express.
A picture of the donkey at the store in Brockenhurst in the New Forest was widely shared on Twitter.
Store manager Tristan Russell said the animal had been lured in with bread and carrots by a group of Brockenhurst College students.
The National Park Authority said feeding donkeys was "against local by-laws and causes serious issues".
Mr Russell said he had to "shoo away" the animal when it was enticed into the shop with breadcrumbs, before the students attempted to feed it carrots.
Donkeys are a common sight around Brockenhurst and Mr Russell described the animals getting into shops as a "nuisance".
He has had to remove them from the shop entrance on six occasions in the last eight months.
Brockenhurst College has not yet responded to a request for a statement.
The picture was posted by a student Charlie Lambeth, who photographed the animal heading into the shop.
The college's media department, seemingly unaware of how the donkey got to be there, earlier tweeted: "It brilliant our students are making the news!"
There are about 100 donkeys roaming freely around the New Forest, owned by commoners who hold grazing rights.
A National Park Authority spokesman said feeding ponies and donkeys could make them develop a craving for human food and become aggressive.
"Although this incident may seem harmless... feeding also encourages animals to gather near roads, looking for people with food, and this makes them more vulnerable to traffic accidents," he added.