Lymington 'themed' dementia care home to open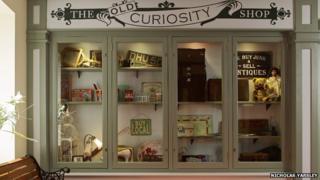 An £8.5m care home for people with dementia will open in Hampshire later with themed rooms and gardens.
Linden House in Lymington will include a square "with shop fronts evoking the Georgian grandeur" of the town as well as gardens with beach huts and gazebos.
Owners Colten Care said "every physical detail has been designed with dementia care in mind".
An Alzheimer's Society spokeswoman said these designs had "a huge role to play in improving quality of life".
There are more than 290 care homes in Hampshire offering services to people with dementia and memory loss, but a purpose-built specialist home such as this one was "not the norm", the Alzheimer's Society said.
Inside there are references to Lymington's history and coastal features throughout the home that "will help the overall aim of prompting both interactivity and reminiscence," according to Colten Care.
There is also a cafe, hairdressing salon and cinema.
The cost is £980 a week for residents, who will also be offered services such as chiropody. Some residents can receive funding under NHS Continuing Healthcare and social services support.
Executive chair of Colten Care Ian Hudson said the home would "provide much needed specialist dementia care for Lymington and the surrounding area".
He added: "Our approach is based on helping people to maintain practical life skills and a spirit of independence for as long as possible."
Alzheimer's Society spokeswoman Amber Reed said it was "encouraging" to see such homes "introducing stimulating and engaging environments."
She said the themed rooms and gardens could have "many benefits such as improving mood and reducing agitation".
The home will create about 100 jobs including posts for nurses and healthcare assistants.
According to the Alzheimer's Society there are more than 18,000 people in Hampshire currently with dementia.
This is expected to rise to 24,000 in seven years.