Stephen Hipkins inquest: Patient hanged himself in hospital grounds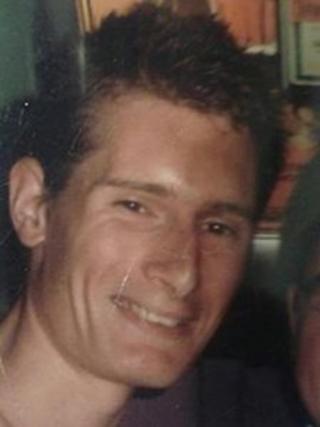 The family of a mental health patient who hanged himself in hospital grounds want to know how he was able to leave a building when its doors were locked.
Stephen Hipkins, 28, hanged himself from a tree at St James's Hospital, Portsmouth, in January 2013, an inquest at Portsmouth Guildhall heard.
His family said they had not been told how he had been able to leave the secured unit on the night of his death.
Solent NHS Trust said it had since upgraded security at the site.
Tina McNair, his mother, said: "I never got the answer I was looking for - how he actually got out to take his own life.
"They couldn't give me that answer because they didn't know, and I just thought it was a bit late now, putting all of the security systems in, when it should have been done when the place was first opened. It might have prevented this from happening."
'Disturbed and distressed'
Stephen had previously warned he would hang himself, the family said. He was described as being depressed, drinking heavily, and self-harming.
As a voluntary patient on the Hawthorns Ward of The Orchards mental health unit, he was free to go home, but on the day of his death he was able to leave without a risk assessment from hospital staff.
Doors to the unit were said to be locked at the time, operated by key fobs.
A note left for his mother read: "Sorry mum, it has to be this way, I can't deal with life no more."
Coroner David Horsley recorded a narrative verdict, describing Stephen as a "disturbed and distressed young man".
Solent NHS Trust said it had upgraded its security system, installed higher fences, and improved its medical risk assessments.
"We'd like to offer our sincere condolences to Stephen's family and friends," it added.