Private firm move for Weymouth's beach chalets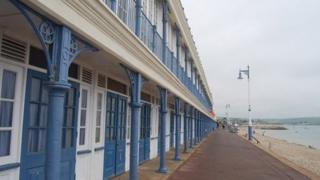 Rows of beach chalets on Weymouth's Esplanade could be handed over to a private firm to run.
Weymouth and Portland Borough Council has proposed to put a 125-year lease for the chalets out to tender.
The council said the 107 single and two storey chalets, gardens and public toilets had become too expensive to maintain.
People have until 9 May to submit their comments on the proposals with a decision expected in June.
If the plans to tender are given the go-ahead, the council would put them on the market in July.
Councillor Peter Chapman said: "There's an £800k repair bill associated with the concrete chalets.
"We believe a new operator will be able to maintain and improve the Greenhill chalets and associated facilities to a better standard than the council can afford to."
'Very concerned'
The council said leases on the chalets had been offered to the public until October.
Ian Campbell, a member of Friends of Greenhill Gardens, said: "I'm very concerned that this is a done deal.
"We wonder whether any form of consultation will get to the ears of the people in the council that are necessary."
In 2006 the rows of huts at Greenhill Beach were recommended for closure by the council by March 2008 and faced the prospect of demolition.
However the two storey Esplanade chalets were given 'listed' status by English Heritage in 2008 - which means they have to be retained.