Community hub plan for Kingston Prison Portsmouth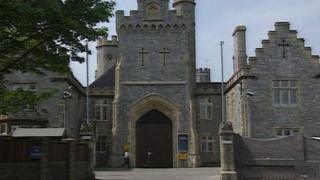 A former Portsmouth prison which closed in March last year could be used as a prison museum or a rehabilitation centre for young offenders under plans unveiled by campaigners.
Kingston Prison, which was built in 1877, has now been put up for sale by the Ministry of Justice (MoJ).
Kingston Prison Action Group hopes it can become a "community hub".
The group is planning a site visit to assess the prison buildings, before putting together detailed proposals.
'Lasting legacy'
It hopes the plans will provide an alternative option to selling the former prison for redevelopment.
In a statement, the group said: "With creative thinking, a passion to make a difference and a coalition of the willing, there is a real opportunity to create a lasting legacy for Portsmouth and Hampshire, whilst leading the UK in delivering real social value services, with a positive social impact and social return on investment."
HMP Kingston is one of eleven jails in England to be closed by the MoJ as part of spending cuts.
Seven closures were announced in January last year and a further four closures were announced in September.
Work on a new 2,000-place super-prison in north Wales is expected to start next summer.
Kingston housed about 800 Category C prisoners with indeterminate sentences.
A Prison Service spokesman said it would consider "appropriate offers" for the site and "seek best value for taxpayers".