Royal South Hants Hospital fire: Arson suspect arrested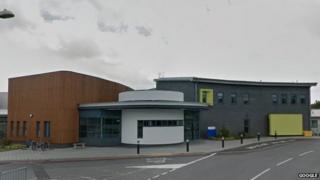 A woman has been arrested on suspicion of arson following a fire at a Southampton hospital.
Five people needed medical treatment after fire broke out in a mental health unit at Royal South Hants Hospital on Wednesday evening.
Police said a 36-year-old woman from Fareham was arrested on suspicion of arson and bailed until 8 May.
Fire crews said one ward had to be evacuated and 30 people moved to a different part of the building.
Four people were treated for the effects of breathing in smoke while one needed further treatment and was transferred to another hospital.