Owners ordered to make Southsea South Parade Pier safe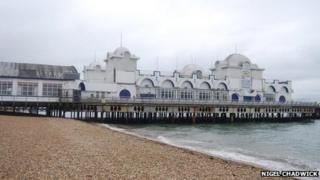 The owners of a Portsmouth pier have been ordered to make the structure safe within seven days or a council will seize control of it.
South Parade Pier, in Southsea, closed in 2012 and was served with a closure notice last year to "protect the public from danger".
On Friday, one owner said it had been sold but did not say to whom.
Gerald Vernon-Jackson, leader of the city council, said a letter had been sent to the previous owners.
He said he had not yet been made aware of who the new owners were.
Mr Vernon-Jackson said necessary work to "stop people from going under the pier and to protect people under the canopy at the front" had been requested.
If this is not done within a week, the council will carry out the work and charge the owners, he said.
One of the owners, Dawn Randall, said on Friday that contracts for the pier's sale had been exchanged, but did not want to disclose how much it had been sold for or who had bought it.
Community trust South Parade Trust (SPT) had claimed the owners had offered to sell the Grade II listed pier to it, subject to price and contract, but Ms Randall said it had not been sold to the trust.
Ms Randall has since declined to comment.