Southsea South Parade Pier 'is sold'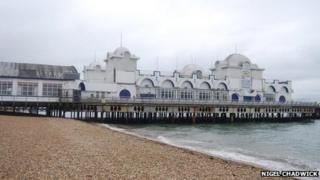 A pier closed to the public over safety concerns has been sold, one of its owners has said.
South Parade Pier in Southsea, Portsmouth, closed in 2012 and was served with a closure notice last year to "protect the public from danger".
Owner Dawn Randall said contracts for its sale had been exchanged, but did not want to disclose how much it had been sold for or who had bought it.
She said with the new owner the pier could "go back to how it should be".
Community trust South Parade Trust (SPT) had claimed the owners had offered to sell the Grade II listed pier to it, subject to price and contract.
Ms Randall said it had not been sold to the trust.
"I never wanted them to buy it because they never had the money," she said.
'Unpaid bills'
SPT chairman Leon Reis said it could have raised the cash if an "orderly sales process" had been held.
He also warned any new owner that salvaging and restoring the structure would be a "multi-million-pound project".
He said there was a £37,000 mortgage attached to the pier's title, and an anticipated £80,000 electricity reconnection fee after a "series of company liquidations for unpaid energy bills".
He also said thousands of pounds needed to be spent on restoring the concrete deck's "bullnose" edging.
Ms Randall said a mortgage was no longer attached to the property and dismissed the electricity reconnection fee claim as "rubbish".
She added the "bullnose" was being put back on next week.
She said the shops and arcade at the entrance to the pier were still trading, but were currently closed due to repair work.