Fire destroys flats in Isle of Wight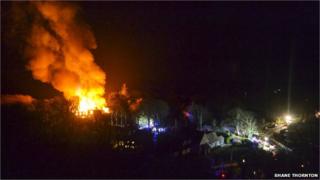 A fire has destroyed flats in a converted house on the Isle of Wight.
The blaze in Puckaster Lane, Niton, started at about 17:00 GMT on Wednesday. Six of the seven flats in the property were completely destroyed.
Crews worked overnight to put out the fire - at its height, eight crews of firefighters tackled the blaze.
Eyewitness Robert Jones said: "I heard the fire before I saw it. I've seen fires before, but never such destruction as this."
Chief fire officer Steve Apter said everyone was able to get out of the building quickly and nobody was injured.
Simon Perry, from Isle of Wight news website OnTheWight, said he had spoken to a resident who said one woman had lost the novel she had been working on for 15 years.
"Puckaster, as it's known locally, was a very special place, that over time has been home for many interesting people," he said.
"Those that lived there have lost everything, as well as now being homeless.
"It's a great loss and will be a big shock for the local community."