Gosport crash deaths: PM responds to sentence review calls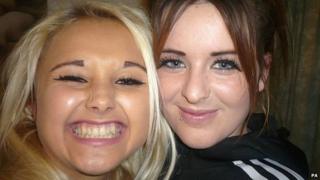 David Cameron has indicated there should be a review of sentences passed for causing death by dangerous driving.
The prime minister was responding to a question from Gosport MP Caroline Dinenage about the deaths of Jasmine Allsop, 14, and Olivia Lewry, 16.
Last week, Samuel Etherington, 20, was jailed for nine years for causing the teenagers' deaths in Gosport.
Ms Dinenage is calling for a review of the maximum sentence for the charge, which currently stands at 14 years.
Speaking at Prime Minister's Questions (PMQs), Ms Dinenage said: "Last week a judge sentenced a Gosport man to nine years in prison for causing the death by dangerous driving of two teenage girls.
"Given that amounts to effectively four years per life, does the prime minister agree that it is high time we looked again at the maximum sentence for causing death by dangerous driving?"
Mr Cameron said the issue of dangerous driving had previously been raised at PMQs and added: "I think it's important that the Lord Chancellor and his department look carefully at what more we can do to send the clearest possible message about the unacceptability of this crime."
Jasmine and Olivia were hit by Etherington's Honda Civic in the early hours of 3 November in Gosport, Hampshire.
Etherington, who had taken the drugs ketamine and mephedrone before the accident, denied two counts of manslaughter but admitted two counts of causing death by dangerous driving.
The pleas were accepted by the Crown Prosecution Service (CPS) at Winchester Crown Court.
Judge Guy Boney QC described Etherington as "a menace behind the steering wheel of a car".
The court heard the collision happened near the junction with Brougham Street, with the modified car travelling at 65mph (105km/h) in a 30mph residential area.
Nicholas Haggan QC, prosecuting, said Etherington had been due to pick up the girls after a party but drove past them, before driving his car at high speed directly at them.
Mr Haggan said a black box fitted to the vehicle for insurance purposes showed Etherington had accelerated to 71mph (114km/h) with the collision happening at 65mph.
Ms Dinenage said she had already written to the justice minister asking for a review of the maximum sentence for causing death by dangerous driving.