Alnwick firm A & J Scott fined after worker loses fingers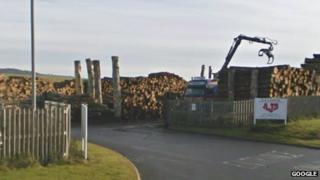 The owner of a Northumberland sawmill has been fined after a worker lost two fingers which got trapped in an unguarded log-sawing blade.
The 55-year-old victim had to have part of two of his right hand digits amputated after the accident at Station Sawmills Wooperton, Alnwick, in 2012.
Berwick magistrates heard he was trying to clear a jam in the machine when his hand got caught in a moving blade.
Owner A & J Scott admitted a safety breach and was fined £4,000.
The firm was also ordered to pay £8,911 costs in a prosecution brought by the Health and Safety Executive (HSE).
The court heard the victim from Amble, Northumberland, was using an industrial-sized rig saw to cut logs when a section of wood became caught in a blade.
'Lasting injuries'
He left the machine running while he tried to clear the blockage and his hand got caught in the moving blade, the hearing was told.
The HSE found that the log-cutting machine did not have adequate safety guards.
After the hearing, HSE inspector Andrew Woodhall said: "This incident could have been easily prevented if A & J Scott had provided suitable measures to make sure workers did not come into contact with the moving blade.
"By failing to introduce simple precautions a worker suffered painful and lasting injuries."