Ex-headmaster Jeffery Carney jailed for sexual abuse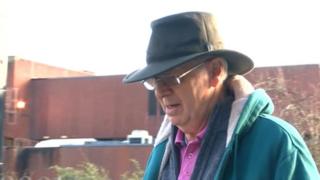 A former headmaster has been jailed for indecently assaulting two boys.
Jeffery Carney, of Burney Bit, Pamber Heath, Hampshire, admitted assaulting a 13-year-old former pupil in the 1970s and a boy aged nine or 10 in 1988.
He continued abusing the second boy until he was 15, Reading Crown Court was told.
Carney, 76, who has terminal prostate cancer, was jailed for 16 months. The court heard he was jailed for 15 months in 2003 for similar offences.
Carney had met his younger victim while volunteering at a charity for disadvantaged children, the court was told.
The prosecution said the boy's family came to trust Carney, who was then the head teacher at Saint Sebastian's School in Wokingham.
'Novice monk'
Prosecuting, Russell Pyne, said Carney invited the boy to stay at his home over Christmas and shared a bed with him.
"The sexual activity began more or less immediately," he said.
Six of the seven counts of indecent assault were against that boy.
The other count was against the 13-year-old, who Carney touched when he worked as a teacher in Shinfield.
Defending, Andrew Storch said Carney had been a "novice monk" in the Anglican Franciscan Order for a year until 1979.
"Since retiring he has lived out his Christian faith and is agonized over what he did in the past," Mr Storch said.
Carney wrote cards asking forgiveness and expressing remorse to the younger boy's mother after she confronted him in 2007, the court was told.
Mr Storch said Carney was diagnosed with the cancer in 2011 and the side effects of oestrogen hormone implants meant Carney "had no sex drive at all".
Judge Grainger said the "extremely serious offences" had led him to jail Carney whose behaviour he described as "appalling".