Botley landslip railway line 'closed until mid-March'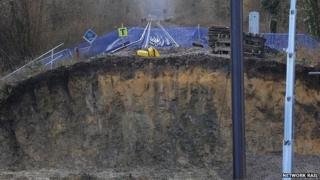 Work to rebuild the railway line through Botley in Hampshire, which was damaged by landslips after heavy rain, will take until mid-March, Network Rail has said.
The railway link between Eastleigh and Fareham was cut on 1 February after three landslips hit one mile of track.
Network Rail said that in the largest slip an embankment 260ft (80m) long and 50ft high collapsed.
More than 1.5 miles (2km) of new road have been built to access the line.
About 100 engineers were working day and night to rebuild the line, Network Rail said.
Sam McCarthy, of South West Trains-Network Rail Alliance, said: "This is a huge project.
"There is still a lot to be done before we can resume our services, but with work progressing well and on schedule, we expect to be able to reopen the line by mid-March."
Portsmouth to London Waterloo trains are being diverted, with buses serving stations from Fareham to Eastleigh, while the line remains closed.