Minecraft gamer's YouTube hit 'more popular than Bieber'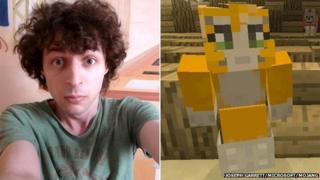 Joseph Garrett spends his days playing Minecraft in his bedroom at his parents' house. He films himself doing this for a living. And it might just make him a fortune.
The 23-year-old has millions of young fans, gets bombarded with their daily messages, and the videos he uploads to his YouTube channel currently get more hits than One Direction and Justin Bieber.
But if he walked down the street, nobody would recognise him.
Welcome to the new world of children's entertainment, where devoted gamers watch videos of other people playing so they can perfect their skills and become better players.
Mr Garrett's most popular videos depict the game Minecraft, in which players construct their own virtual worlds.
The game has become such a phenomenon, his videos can attract more than 30 million hits in a week.
And through picking up a small share of the advertising revenue, those huge numbers could well make the graduate a fortune - without ever leaving his bedroom.
"I don't think it's sunk in," he says. "When you're in your room all day looking at little numbers tick up, I think it's hard to gauge it.
"Maybe one day it's going to eventually sink in, but I'm really happy, I'm not going to lie, I think I've got the best job in the world.
"I play video games all day, I make videos, which is what I love doing, and I can be creative and I can have fun and the fact that people enjoy watching it makes it that much more nicer, so I'm very happy."
The former barman, who lives near Portsmouth, Hampshire, has been taken aback by how popular the running commentaries of him playing the game have become in such a short space of time.
Although his YouTube channel doesn't have the most subscribers, in the past month his views have grown rapidly with web firms Socialblade and Tubefilter currently putting him in the top 10 most-viewed channels worldwide.
Google, the owner of YouTube, only records annual figures.
Mr Garrett's audience is largely comprised of six to 14-year-olds.
"The majority are girls rather than boys, which surprises a lot of people, though it's only about a 60/40 split," he says.
Mr Garrett, who makes videos under his pseudonym Stampylonghead, started uploading the videos while he was still at university.
"I worked in a pub and I decided to leave when I was earning the same amount as I was there," he adds.
"That was just minimum wage, so that was probably about 10,000 subscribers.
"I was lucky enough to be able to be with my parents and they were happy enough to let me stay rent-free so I could sort of develop this to earn a full-time living."
Better than TV
Though he would not be drawn on an exact figure, the game fanatic acknowledged if his popularity remains as high, he could become a millionaire, but he says money isn't his motivation.
"You need to be getting the massive figures but if you do manage to get right to the top there's big money there because there's a lot of eyeballs," he says. "Most channels over 100,000 subscribers can have a decent living doing what I'm doing now."
"I think it's just showing what the future's going to be," he says.
"A lot of people view the television as a very passive thing now. It's in the corner, it's always just rolling 24/7.
"I think things on tablets, phones and laptops seem a lot more instant and probably just a bit more exciting."
His view is shared by Chris Dring, editor of the games trade magazine MCV.
"Kids' media has gone under a radical transformation over the last three years," he says.
"Kids are still watching TV and going to the cinema and playing console games. But they are also on YouTube, Facebook and mobile games.
"These YouTubers are effectively entertainers, producing videos for fellow-minded players. To these fans, the YouTubers are celebrities."
Although currently popular, Garrett trails other gaming-based YouTube channels when it comes to overall views and subscribers.
Bristol-based Yogscast has passed two billion hits over the past six years and has previously been cited as the UK's number one.
Mr Garrett, who is single, says his audience see him as a friend.
"I think it makes it feel more personal than watching a TV and they feel like they know me more. I'll get messages from people, not about my videos, just telling me what they did that day.
"The presenter of CBeebies might not seem like a friend; they seem like a presenter in a studio."
The volume of messages he receives each day is so great he cannot keep up with them.
His future plans include moving out of his parents' home and moving in with a friend, 22-year-old David Spencer, who also appears in his Minecraft videos as iBallisticSquid.
"I'm a guy in my bedroom making videos. I'm trying to set up a proper office but it's going quicker than I've been able to adjust to.
"I just want to sustain what's happening at the moment."
And what do his parents think of their son's unusual career path?
"I think they're equally amazed as me. There was a while when things were starting off where I think they kind of wished that I was going out and getting a real job, but now they can't really argue against it and they're happy for me."