New Forest pony listed as rare breed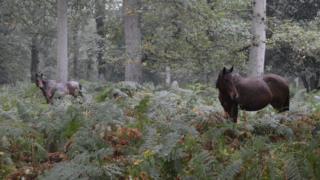 The New Forest pony has been classed as a rare breed by an animal charity.
The Rare Breeds Survival Trust (RBST) listed the pony in its minority breed category on its watch-list, for equines with up to 3,000 breeding females.
There are now fewer than 3,000 breeding mares in the forest and last year just 423 foals were born - compared to 1,463 five years ago.
The New Forest Pony Breeding and Cattle Society said a declining market for horses meant fewer were bred.
It said this had led to a narrowing of the gene pool.
Improve quality
Sue Westwood, clerk to the New Forest Verderers, who oversee the forest's commoners and their animals, said: "The lack of breeding mares is because we have tried to breed better foals and fewer foals.
"Commoners [pony owners] were coming to us saying they couldn't sell their foals and asked if we could do something."
She said the verderers were trying to help the breed in a number of ways through the bloodlines scheme.
"We are paying a higher payment to commoners for the purebred ponies they turn out - compared to part-bred and other breeds - to encourage them to keep purebreds," she said.
"We are also breeding from older mares - some that are of an age that they are no longer on the forest, [aged] 16 or 17, but are of good quality."
Ms Westwood said there were only between 22 and 25 stallions, of which only 10 are turned out at any one time.
They have been serving mares on the forest for the past 10 or 11 years.
"So any mares older than 11 or 12 will not be their offspring," Ms Westwood said.
She said purebred mares and stallions from other parts of the country were also being brought in to help improve the breed.
New Forest ponies have been grazing freely in the New Forest since rights of common pasture were granted to the areas inhabitants in the 11th Century.
The New Forest was designated a royal hunting ground by William the Conqueror in 1079.