Dumped animal Matilda 'used in dogfighting', says RSPCA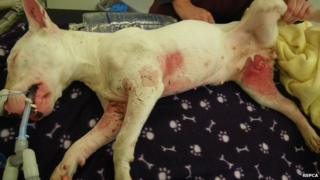 A badly injured English bull terrier may have been used in dogfighting before being dumped over a 6ft (1.8m) wall, the RSPCA has said.
The animal, named Matilda by staff, was found with deep bite marks to each armpit and dozens of other smaller bite and scratch marks down its front legs.
A resident of Crows Nest Lane in Botley, Hampshire, found the dog and initially thought it had been in a road accident due to the amount of blood.
But fighting is thought to be to blame.
However, an RSPCA spokeswoman said it was unclear whether it had been used for organised dog fighting or had fought with animals wherever it was kept.
Five-year-old Matilda, who was found last Friday night, was treated with pain relief and antibiotics and is recovering at the Stubbington Ark Animal Shelter.
RSPCA inspector Patrick Bailey: "This poor little dog would have been in so much pain - she just could not move due to her injuries.
"We can only imagine what she has been through and may never fully know what she had to endure."
The RSPCA has asked anyone with information about Mathilda, who was wearing a dirty-blue nylon collar with a black plastic clip, to come forward.