UK floods: Buckskin sewage contamination continues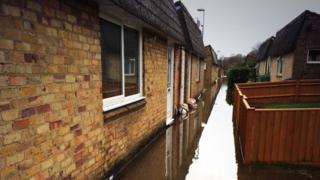 More homes on a housing estate in Basingstoke could be evacuated as sewage continues to contaminate flood water.
Ground water began to overwhelm the drainage system in Buckskin almost two weeks ago.
Basingstoke and Deane Borough Council said more than 100 homes are affected, with 55 already evacuated.
Thames Water said it is not responsible for ground water issues. The council has urged people to avoid flood water.
Tony Curtis, chief executive of the council, said a further 50 homes could be evacuated in the next few days if ground water levels continue to rise.
"We're trying to solve it by continually pumping the foul water away and trying to maintain the existing levels," he said.
"But that's all we're able to do because as fast as we take the water away, more water comes out of the ground."
In a statement, Thames Water said it was aware of the problems and added it sympathised with those affected, but said there was nothing it could do to help until water levels drop.
"Our sewer network has been overwhelmed by the ground water and pumping or tankering it away will not help, as more will continue to rise up from under the ground," the company said.
"We are responsible for making sure our sewer network is well maintained and running smoothly, but our remit does not extend to investigating and solving groundwater, river flooding or surface water problems.
"This falls to local authorities and the Environment Agency."
It added it was working "flat-out" to keep the sewer network running and "helping customers wherever we can".