Vodafone Bordon customers angry over two-year signal problems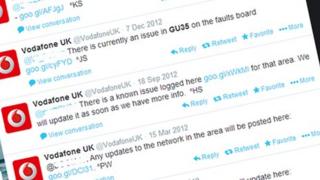 Residents in part of Hampshire say they have been badly treated by Vodafone after two years of signal problems.
Mobile phone customers in Bordon say the latest service outage has so far left them without a signal for 23 days.
Many customers say they were advised to buy a plug-in signal booster, costing £100, which would only work at home.
Vodafone said it had been aware of a problem involving one of its masts since 28 January but bad weather meant it had been unable to fix it.
A spokeswoman said: "The issue we have got is that the engineers have not been able to climb the mast. We have got to have low wind and a clear day.
"They are assessing it on a daily basis. We are treating it as an absolute priority."
A Facebook group set up in December 2011 to share information about the signal problems at Bordon has attracted more than 200 members.
Throughout 2012 and 2013, many posted messages complaining of no signal for days or weeks at a time. Others were told there was a known problem with mast "3027 GU35".
A Vodafone spokeswoman said: "We have a team looking into the performance of the network in Borden.
"We know how frustrating it is when customers are unable to use our service but we are constantly working on improvements to our network.
"Our Sure Signal device [plug-in signal booster] is available for customers with a broadband connection. It creates a strong 3G signal in areas where the signal is limited, or even non-existent."
'Quite rude'
Roy Waby, who runs a transport business in Blackmoor, said Vodafone had persuaded him, during a period of good signal, to renew his contract, claiming the problems had been permanently resolved.
He said: "It's been ongoing for about two years, which is why people are getting so angry. Vodafone keep coming up with stories about fixing it but it never happens.
"We had two vehicles break down and the drivers couldn't get in touch and we had an issue with the alarm last week and the security company couldn't get in touch with us either.
"It's really starting to have a knock-on effect."
Another resident, Kelly Gardiner, who is 32 weeks pregnant, says she has no means of contacting her husband between 07:30 and 17:00.
She said: "Vodafone have been... actually quite rude at times with one of their operators asking us what we would have done before mobile phones."
Customers who have been unable to resolve disputes through their provider's complaints procedure can contact Ombudsman Services for help.