UK floods: 'All hands to pump' as rain returns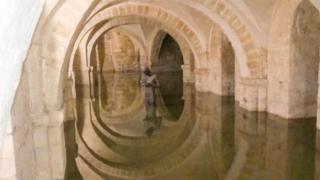 Non-emergency council staff in Hampshire have been moved from "normal day jobs" to the front line during the floods, the authority has said.
Some 40 to 50 staff from departments such as landscaping and transport planning will now "bolster" the highways department.
Their duties will involve responding to requests for help, and distributing and checking on road signs.
Conservative councillor Sean Woodward said it was "all hands to the pump".
"With strong winds and more heavy rain due, we've directed all the resources we can to help tackle the flooding," the executive member for economy, transport and environment added.
"With already saturated ground, there's nowhere for any additional water to go, so I think we can expect more roads to be flooded, and more trees to come down over the next 24 hours."
About 100 employees, including 200 workers from the council's highways contractor, Amey, are already helping with relief efforts.
Mr Woodward said the road network was "coping relatively well" but main roads, including the A272, A32 and A3057, had been affected.
Since Christmas Eve, highways staff have responded to more than 7,000 incidents on Hampshire's roads, including clearing around 1,000 fallen trees.
So far, more than 50,000 sandbags have been filled and deployed across the county.
After bad flooding in Winchester, deputy leader of the city council, Rob Humby, said the authority was being "proactive" ahead of more bad weather forecast.
"We've got another huge load of sandbags coming, 10,000. We've got the navy here filling them as quick as they possibly can," he added.
"We had a slight day of respite yesterday but we're putting those plans into action now.
"Yes, we are concerned but we are prepared for it."
Meanwhile, the 800-year old crypt in Winchester Cathedral has been shut to the public after filling with approximately 3ft (1m) of floodwater.
The room often fills with water in the winter months but this is the highest level in recent memory, the cathedral said.
Heavy rain is already hitting south-west England, with strong winds in the Isles of Scilly and snow on higher ground.
Seventeen severe flood warnings remain in place in parts of Gloucestershire, Somerset, Berkshire and Surrey.