Drowned Marco De Araujo was a 'true hero'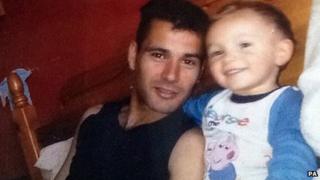 A man who drowned after diving into the sea to save two girls was a "true hero", a coroner has said.
Marco De Araujo, 33, from Portsmouth, went into the water at Old Portsmouth to help the youngsters, aged four and 10, in July 2012.
His body was discovered in the Solent by HMS Richmond 12 days later.
Portsmouth coroner David Horsley said: "He didn't give it a second thought and he has given his life to save those children."
Mr De Araujo's partner Tracey Hall was with him at the Hot Walls beach when they heard a woman calling for help.
Ms Hall told the Portsmouth inquest: "As I looked out I could see a blonde head by the rocks, she was quite a way out.
"The woman was shouting out and Marco said to me 'I'm going to help that little girl' and that was it, he was gone."
'Freaked out'
Also on the beach was Connor Faith, then 17, who "instinctively" jumped in to help.
In trouble was Natalie Lock's four-year-old daughter Destiny, alongside Courtney, the daughter of Ms Lock's friend.
Mr Faith said: "All the people in the beach stood up and moved to the water's edge.
"The current was really strong and took me to the girls.
"They were shouting 'Help, I want my mum'. The small girl was hanging onto the older one."
Mr Faith pushed Courtney towards Mr De Araujo, and then swam to Destiny.
Ms Lock said: "I freaked out... I could see Destiny because Connor was holding her.
"Courtney had walked to the shore because Marco had brought her... and gone back out again."
'Extremely tragic'
Mr Faith and the other girl were then hauled out by a pilot boat.
A search for Mr Araujo by police, coastguard, Royal Navy and lifeboat personnel followed.
After his body was discovered, toxicology tests showed he had alcohol and small amounts of cannabis in his system.
But concluding, Mr Horsley described Mr De Araujo's death as an "extremely tragic accident".
"Marco was a true hero," he said.
After the inquest Ms Hall said: "It's not news to me, I know what Marco was like.
"He just did, to me, what was normal."