Winchester residents battle against rising flood water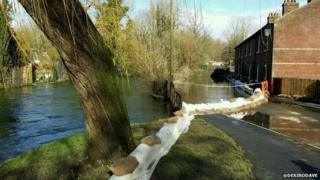 Residents and businesses in Winchester are working to protect the city from further flooding after the River Itchen burst its banks.
Hampshire Fire Service has brought in two high volume pumps, including one sent over from the Isle of Wight, to help with the rescue process.
Other areas affected include Hambledon and Romsey, and Christchurch in Dorset.
Around 50,000 people across the UK are still without power after severe gales caused widespread damage overnight.
Gusts of 96mph (154km/h) were recorded at The Needles on the Isle of Wight.
Becky Evans, who lives in Winchester, close to the River Itchen, said it had been "tricky" getting in and out of the house.
"We've got six-high sandbag walls blocking our entrances," she said.
"So, we've had to have some helpful marines or firemen passing to help me lift the pushchair in and out.
"And they've told us that the flood water is now contaminated with sewage."
Jemima Lewis, who lives near the burst river, said her neighbours had water flowing through their homes.
"Our house is about a foot slightly higher up but those houses next to me, they've got pumps coming out from under their houses" she said.
"The water table is so high they've got water underneath their house. If you lift the floorboards, you can see water running under the house.
"This is definitely as bad as it's got. The flood water is coming up in the road, coming out of the drains as much as coming over from the river itself."
Jane Fish, who also lives in the city, said there was a "big concern" about the water coming over North Walls and getting into the foundations of the city.
"We're bracing ourselves. We've got sandbags. Apparently they've done an amazing job overnight, so everybody's got their fingers crossed," she said.
Hampshire Fire and Rescue are using the high volume pumps to take water away from flooded contributories to the Itchen and into a controlled flood area.
"If we didn't act in this part of the city, the water would go across the North Walls road and would flow into the city," said commander of Winchester Fire Station, Alex Rhodes.
"We're using high volume pumps, which are national resources that we've requested to use here. They pump 7,000-litres per minute."
Mr Rhodes said a "great plan" from the Environment Agency to lower 80 one-tonne sandbags into the Itchen had "definitely bought the city some time", despite it being at risk from further rising flood waters.
Forecasters are predicting some respite on Thursday from stormy weather but another Atlantic low could bring gales of more than 80mph (129 kph) from Friday onwards.
Sixteen severe flood warnings remain for Berkshire, Surrey and Somerset - all already hit by severe flooding.