Mike Hancock's son denies photographer assault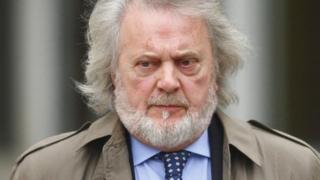 The son of Portsmouth South MP Mike Hancock has pleaded not guilty to assaulting a photographer outside his father's home in Hampshire.
Dean Hancock, 37, from Fareham, was arrested after an alleged altercation took place on 23 January outside a property in Rockingham Way, Fareham.
He is charged with assault causing actual bodily harm to Steve Reigate, of the Daily Express.
Mr Hancock appeared at Fareham Magistrates' Court earlier.
He elected for the trial to be held at the same court rather than by a jury at a crown court.
District judge Anne Arnold adjourned the case for trial on 29 April and Mr Hancock was granted unconditional bail.
The defendant's father is being sued in the High Court by a "vulnerable" female constituent who alleges that the MP sexually assaulted her.
The 67-year-old is currently in hospital, where he is expected to remain until at least the end of the week, according to his office.
He stepped down from his seat on the cabinet of the city council earlier this month but remains a city councillor.
Last month, he was suspended by the Liberal Democrats after a report into the claims of sexual misconduct was leaked.