Portsmouth's Fratton Park Tesco plans submitted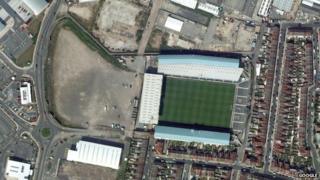 Plans for a Tesco store behind Portsmouth Football Club's Fratton Park ground have been submitted.
The club, owned by Pompey Supporters' Trust, is backing proposals for the 5,500 sq m (59,200 sq ft) development behind the Fratton End on Fratton Way.
Money from the scheme will be used to carry out improvement works at the club, which spent 14 months in administration.
The store is expected to open in 2015 and create about 300 jobs.
'Real benefit'
Fans and neighbours were consulted on the plans during the summer.
Of those who responded, 90% supported both the store and proposed improvements to the ground, the club said.
Ashley Brown, a club director and chairman of the trust, said the club would "experience a real benefit" from the development.
Stuart Robinson, of Point Estates, bought land surrounding Fratton Park a year ago to allow the stadium area to be redeveloped.
He described the proposals as a "win-win for everyone".
Planned works at the club include new parking next to the North Stand, a new area for broadcasters' vehicles and improved facilities for disabled fans.
The application will now be considered by the city council. If approved, improvements works at the club are expected to begin in the summer.
Pompey Supporters' Trust took over the running of Portsmouth, which had been £61m in debt, in April after buying Fratton Park from the club's former owner, Portpin.