Former HMS Daedalus naval base business centre plans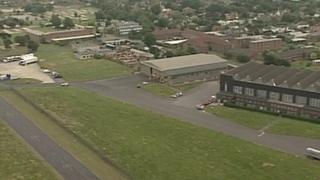 Plans for a new £5.3m business centre on the site of a former Hampshire naval base have gone on display.
The former HMS Daedalus site in Lee-on-Solent will focus on the advanced aviation, marine and aerospace sectors.
Fareham Borough Council's proposals include new office space and workshop facilities for new businesses.
Other developments on the 82-hectare (202-acre) site include "improvements to the runway and new hangar space", according to the council.
Fareham College will also open a new Centre for Engineering and Manufacturing Advanced Skills Training (CEMAST) on the site in September.
In 2011, the former airfield, which operated until 1996, was announced as one of 24 locations for the government's new "enterprise zones" designed to boost economic growth.
The application will be considered at a planning committee meeting in March. If approved, work on the project could start in May.