RSPCA criticised after vet leaves dead horse in field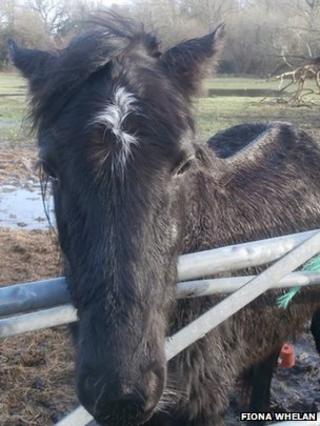 An animal welfare charity has been criticised after the body of a horse was left in a field for four days after it was euthanised by a vet.
The horse, one of a group of 16 in a field in Yateley, Hampshire, was put down by an RSPCA vet on Tuesday, but its body not removed until Saturday.
Resident Fiona Whelan said it had been "left lying in a large puddle, where it started to decompose".
The charity said it was up to the landowner to remove the horse.
The herd of horses had been monitored by the RSPCA because of welfare concerns.
A spokesman for the charity said that, after the vet's visit, the charity had reported the body to the Animal Health and Veterinary Laboratories Agency, which said it was the responsibility of Hampshire County Council's trading standards team to remove the horse.
The council said it had told the RSPCA if nobody came forward to claim the animal, the charity had a responsibility to remove the carcass themselves as they had put the animal down.
The RSPCA spokesman said the horses' owners could not be traced but the animals had "clearly been fed and had owners visiting them".
He said that "whilst the vet agreed that conditions are not ideal, the majority of the horses were not deemed to be suffering under the Animal Welfare Act, so we cannot remove them".
He added that the neglect was not "uncommon" and was part of a national "horse crisis", which was stretching horse welfare charities to "breaking point".