Portsmouth's storm-hit Pyramids leisure forced to shut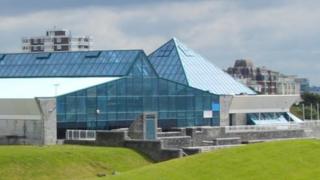 A seafront leisure centre has been closed to the public after suffering severe sea water flood damage.
Portsmouth's Pyramids centre suffered extensive damage to its electrical and plant equipment during heavy rain and gale force winds on Wednesday.
BH Live, which runs the centre, said "a full assessment is being carried out to ascertain the full extent of the damage".
It is expected to stay shut for at least a fortnight.
The turbulent weather system also caused structural damage to the nearby South Parade Pier - part of its boat deck to collapsed into the sea.
The main section of the pier was shut by its owners in 2012 after it was deemed a danger to the public.