University lecturer named Hampshire's new poet laureate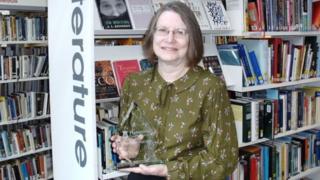 A lecturer has said she is "thrilled and a little daunted" after being named Hampshire's latest poet laureate.
Joan McGavin from the University of Winchester beat 50 poets to secure the unpaid role, awarded by the county council every two years.
The associate creative writing lecturer said she hoped to inspire the next generation of writers.
Hampshire's poet laureate was established in 2008 in celebration of the National Year of Reading.
The winning poet receives four paid commissions to commemorate local council projects and activities during the year.
'Sense of responsibility'
Ms McGavin, who is a published writer, said poetry was an "important part" of her life.
"When I heard that I'd been selected as 2014's Hampshire Poet I felt a sense of responsibility, of the need to justify the interviewer's decision, and a near-simultaneous desire to say: 'When can I start?'," she said.
"There are so many possibilities for poetry-focused events this year, that I feel very honoured and very excited at the prospect of being part of them."
Ms McGavin will take over from writer and lecturer Brian Evans-Jones, who was named Hampshire Poet in 2012.
Mr Evans-Jones, who was also a 2014 competition judge, said he was "delighted" to see Ms McGavin secure the job.
"I'm sure her poems and projects for the year will be interesting and imaginative," he said.