No Lib Dem council candidate to run against MP Mike Hancock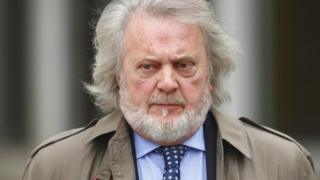 Liberal Democrats will not contest MP Mike Hancock's seat on Portsmouth council in May's local elections.
Mr Hancock, who remains an independent city councillor and MP, was suspended by the party last month after a report into claims of sexual misconduct towards a constituent was leaked.
He has voluntarily stepped down from the cabinet of the city council.
His cabinet replacement described the party's handing of the issues as an "absolute fiasco".
The Portsmouth South MP, who has repeatedly denied the misconduct claims, is set to face a civil case over the allegations later this year.
The council's Lib Dem group initially voted to allow him to keep his cabinet seat, prompting one councillor, Eleanor Scott, to resign from her post.
On Monday Mr Hancock said he was resigning from his planning, regeneration and economic development brief to "stop other councillors leaving".
He added he wanted to "keep the group together".
Later on Monday the party confirmed it would not to select a candidate to fight Mr Hancock's Fratton ward seat in the forthcoming elections.
Chairman of Portsmouth Lib Dems Simon Dodd said: "Obviously Mike would have been our candidate. He cannot be our candidate as his membership has been suspended."
When asked if a deal had been done in which Mr Hancock stood down from the cabinet in return for the party not running a candidate against him, Mr Dodd said: "They are two decisions which obviously coexist together, they are all part of the same story."
It was also announced that Terry Hall and Sandra Stockdale will take on the cabinet positions vacated by Mr Hancock and Ms Scott.
Mrs Hall said the party's handling of the events was an "absolute fiasco".
"It's been a miserable, horrible time and we have to look forward to the future," she said.