Sex claims MP Mike Hancock resigns from council cabinet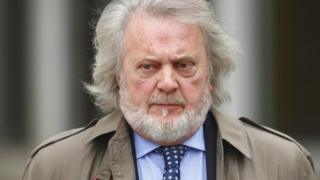 Portsmouth South MP Mike Hancock is voluntarily stepping down from his seat on the cabinet of the city council.
Mr Hancock, who remains a city councillor, was suspended by the Liberal Democrats last month after a report into claims of sexual misconduct towards a constituent was leaked.
The council's Lib Dem group voted he could keep his cabinet seat, prompting one councillor to resign from her post.
Mr Hancock said he was resigning to "stop other councillors leaving".
He added he wanted to "keep the group together".
The councillor who resigned from the cabinet, Eleanor Scott, remains at Portsmouth City Council as a councillor and a Lib Dem party member.
Mr Hancock remains an independent city councillor and MP.
A meeting of Lib Dem councillors on Monday night was due to vote again over whether to allow him to keep his cabinet seat.
It is now expected to consider whether or not the party will select a candidate to run against Mr Hancock when he defends his council seat in the May local elections.
Mr Hancock had been entitled to £17,000 a year for his work as cabinet executive member for economic regeneration at Portsmouth City Council.