Malcolm Campbell's Bluebird heard in public after 50 years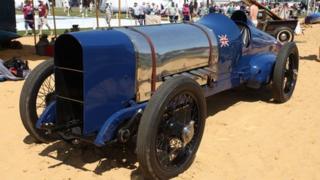 The car made famous by Sir Malcolm Campbell has been heard in public for the first time in more than 50 years.
Mr Campbell gained the world speed record on land and on water at various times during the 1920s and 1930s.
His first land record came in 1924 in a Sunbeam he called Bluebird. Its last public outing was on 14 July 1962.
It was started up at an invitation-only event at the National Motor Museum in Beaulieu, Hampshire, following a complete 2,000-hour rebuild.
The museum's chief engineer, Doug Hill, said the project had been a "long-running labour of love" for the team.
"There is huge satisfaction in seeing it finally completed," he added.
"However, there is more that we still want to do and our next objective is to research the design of the original gearbox."
Mr Hill said all original drawings and records were lost when the Sunbeam factory was bombed during World War 2.
The record-breaking, 350hp car was the brainchild of Sunbeam's chief engineer and racing team manager, Louis Coatalen, and built in Wolverhampton during 1919 and early 1920.
Renamed Bluebird by Mr Campbell, the vehicle set three world land speed records.
The first was achieved by Kenelm Lee Guinness at Brooklands in 1922 with a speed of 133.75mph (215.25km/h).
Mr Campbell then purchased the car and had it painted in his distinctive blue colour scheme.
In September 1924, he achieved a new record speed of 146.16mph (235.2kp/h) at Pendine in South Wales, raising it the following year to 150.76mph (242.6kp/h).
Its last outing was at the British Automobile Racing Club Festival of Motoring at Goodwood in 1962.
In 1972 it moved into the newly created National Motor Museum where it has been on permanent display.
Disaster stuck during a test fire-up in 1993 when a piston and con-rod smashed through the crankcase and left a hole in the engine.