Gosport crash deaths: How 'black box' netted Samuel Etherington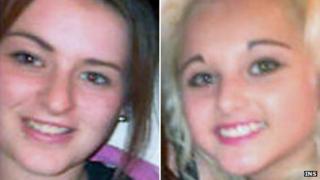 Samuel Etherington thought he could conceal the speed his car was travelling at when he drove into two teenage girls and killed them.
But a piece of technology fitted to his vehicle revealed the truth.
Key to catching the 20-year-old was a so-called "black box" which was fitted to his Honda Civic after a previous driving conviction, details which were heard at a previous court appearance and can now be reported by the BBC.
When he hit Jasmine Allsop, 14, and her 16-year-old friend Olivia Lewry on a Gosport road in the early hours of 3 November he claimed he was driving at about 30mph (48kmh).
However, the box, known officially as an Event Data Recorder (EDR), found him to be travelling at up to 71mph (114kmh) in the 30mph zone and at 65mph (105kmh) at the point of impact, a hearing at Portsmouth Magistrates' Court was told in November.
The court also heard how Etherington claimed one of the girls - later known to be Olivia - was playing "chicken" in the road when he hit her.
He said he had intended to stop but fled when two angry males appeared.
He drove up the road before ringing 999, telling the operator "I have run over a little girl", unaware he had also struck Jasmine.
He arranged to meet officers at a nearby petrol station.
Etherington previously denied two counts of manslaughter, but admitted two counts of causing death by dangerous driving which was accepted by the Crown Prosecution Service at Winchester Crown Court.
On Thursday Etherington was jailed for nine years and banned from driving for seven years. He has been ordered to take an extended driving test on his release.
Two years earlier, Etherington had caused a police officer to jump out of the way of his car to avoid being run over.
He was prosecuted for careless driving and failing to stop, and was disqualified from driving.
When he was able to drive again he found it difficult to get insurance and had to have an EDR fitted to his car.
Iwan Parry, principal consultant for investigations at Independent Transport Research, Consultancy and Testing (TRL), has worked in road traffic accident investigation for more than 15 years.
He explained there are many different types of EDRs, including ones installed in airbags by manufacturers, as well as ones fitted to cars for insurance purposes - known as "telematics".
"Some can be attached to the dashtop, which record images of the road. Others are fitted under the dash which are triggered when a collision pulse [impact or rapid deceleration, for example] is detected," he said.
He explained the data, which also includes speed and acceleration, is used "in many types of accidents and on many different levels", and added it had also been used in previous convictions across the country.
Antonio Singh Boparan is widely reported as being the first UK motorist to be convicted on the evidence of a black box recorder.
It was fitted to the car he was driving when he rammed into Cerys Edwards' parents' car in Sutton Coldfield in 2006, leaving her brain damaged and paralysed at 11 months old.
In Russia, dashboard cameras installed by drivers to fight the growing industry of insurance fraud, have also had other side effects.
Many drivers captured footage of a meteor in Russia's Ural mountains in February last year, as well as 2012's air crash at Moscow's Vnukovo Airport.
Mr Parry said the first large-scale installation of EDR technology in the UK was on Metropolitan Police fleet vehicles in the late-1990s as a way of reducing accident rates.
More recently they have been introduced to Thames Valley Police vehicles after more than £350,000 was spent by the force on repairs in 2012.
Many businesses also use EDRs to monitor the whereabouts of their employees, while civil liberty campaigners have expressed concern about the potential for invasion of privacy.
Firms, such as Co-operative Insurance and the AA, now offer insurance schemes with telematics for young drivers.
According to the Association of British Insurers, young drivers are involved in 25% of all road deaths and serious accidents.
The Co-operative said it had been fitting black box technology to the cars of all its drivers aged 17 to 24 since 2011 as a way of monitoring "behaviour".
However, insurers have said the only time they release data to a third party is if they are compelled to do so by a court order.