Driver dies crashing into house in Portsmouth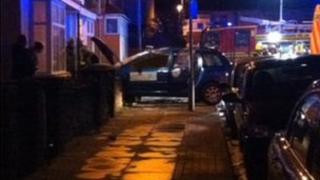 A man died when the car he was driving crashed into a house in Portsmouth.
Allen McBride, 46, of Northover Road, is believed to have fallen suddenly ill. He was treated by paramedics but died at the scene.
The crash, involving a Peugeot 307 taxi, happened at the junction of Cobden Avenue and Chesterfield Road at about 17:40 GMT on Saturday.
Local people tried to help the man before fire crews cut him free. The road was closed until 20:20 GMT.
Hampshire police said the occupants of the house were uninjured.