Sex claims MP Mike Hancock allowed to keep council seat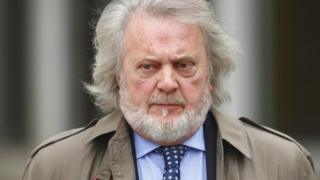 Portsmouth South MP and councillor Mike Hancock can retain his seat on the cabinet of the city council.
The city's Liberal Democrat councillors made the decision last night.
Mr Hancock, who has been suspended by the party, is accused of sexual misconduct towards a constituent - allegations which he denies.
"Councillor Hancock is best placed to fulfil the role of cabinet member for planning, regeneration and economic development", the group said.
He will continue his role as an independent councillor following his suspension.
'Crack of the whip'
Reacting to the announcement, Conservative councillor Donna Jones said: "I am shocked and saddened by the disdain shown for the people of Portsmouth by the decision."
On Friday the alleged sexual assault victim won a bid to force the Lib Dem-led council to make available a full version of a QC's report about her accusations at a forthcoming civil court action.
Portsmouth City Council opposed the application for full disclosure of the report - a redacted version of which had already been leaked.
A High Court official ruled disclosure was necessary so the woman could feel she had "a fair hearing and a fair crack of the whip".
The report was written by Nigel Pascoe QC, who was asked by the city council to investigate the allegations for code of conduct proceedings.
Lib Dem leader Nick Clegg insisted he had taken immediate action after learning of "appalling" allegations levelled against the MP.
Mr Clegg made the comment on Friday as he came in for criticism for failing to do anything in the three years after the party was notified of the complaints.