Motorcyclist death in horse collision sparks IPCC investigation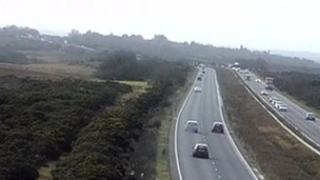 A fatal crash in which two motorcyclists collided with a horse has been referred to the Independent Police Complaints Commission (IPCC).
One of the motorcyclists died after the collision on the A31 near Ringwood, in the New Forest on Wednesday.
Both had been stuck in traffic as police tried to locate a horse loose on the road. The horse died at the scene.
The A31's westbound carriageway back to junction one for the M27 at Cadnam was closed for more than five hours.
Hampshire Constabulary is investigating the cause of the collision and how the horse came to be on the carriageway.
Before the crash, at about 18:15 GMT, police had advised motorists to "proceed with caution" because of the possibility of "animals in the carriageway".
A force spokesman said: "This element of the incident has been referred by Hampshire Constabulary to the IPCC and we await its decision on how this will be investigating."
'Complicated scene'
Supt Chris Brown called it a "very tragic incident", and said the decision to close the road had not been taken "lightly".
He added: "This was a very complicated scene.
"We were dealing with what looked at the time to be a potential double fatal and the death of a horse on a main road, all of which has to be recovered with great care and diligence, and the scene forensically examined."
Both motorcyclists were taken by ambulance to hospital, where one of the men died of his injuries.
The other remains in a serious condition.
Matthew Reid, from Dorchester, was among drivers caught in the tailbacks as he travelled from Rownhams services on the M27 near Southampton.
He said: "I first came to a halt at 17:40 GMT when I'd heard a warning on the radio that there were horses on the road.
"We moved again half an hour later and got up to full speed for about a minute before stopping again and then that was it.
"The next time I moved was 00:30. I eventually got home at 02:00.
"Police began turning cars around and escorted us back down the carriageway to junction one of the M27."