Fraud convicted mother calls on firms to employ ex-criminals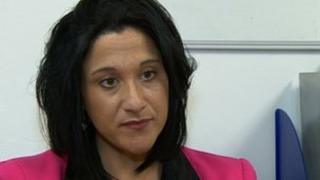 A convicted fraudster who now works for a charity helping people with criminal records find jobs has called for greater understanding from employers.
Louise Humby, 33, from Southampton, stole £30,000 using a company credit card and said she was "petrified" despite getting a suspended sentence.
She said her time with charity Women's Wisdom proved not all people with criminal records were "bad people".
Justice minister Jeremy Wright has pledged greater government help.
Mr Wright said they would be offering 12 months rehabilitation to all prisoners.
Figures obtained by the BBC from the Ministry of Justice show that in Hampshire 46% of offenders on probation are unemployed at the end of their probation period.
About one in 10 offenders in the county have committed another offence within six months, and around a quarter of all offenders reoffend within a year.
Ms Humby was given a suspended jail sentence, but was still "absolutely petrified, very upset, and ashamed".
She added: "I honestly thought I would find it extremely difficult to get back into work."
'Livelihood hindered'
Ms Humby was ordered to do community service at Women's Wisdom, a Southampton project that raises money for community schemes.
When a job came up at the organisation, she applied. She now manages the scheme herself by helping other offenders get back into work.
"I think there definitely needs to be a lot more support out there for ex-offenders.
"There's many people that make that one mistake, then that's their whole career and livelihood hindered."
Vikki Scarfield, from Hampshire Probation Service, said people were much less likely to reoffend if they found employment, but having a criminal record often counted against them.
"There's a huge stigma around people that have committed offences.
"They feel isolated and if they do go forward and try and attempt to get work they're often just going to be knocked back.
"So it is [about] working with employers and with offenders to give that reassurance that those opportunities are there."
Mr Wright said that the government was in the process of changing the rehabilitation process so that those on probation will receive greater support.
"For the first time all prisoners will receive at least 12 months supervision and rehabilitation in the community on release.
"We are also creating a nationwide network of resettlement prisons that will see most offenders released directly into the area where they will live and allow rehabilitation work to take place through-the-gate.
"This will make the often too chaotic transition from custody to the community far smoother."