Mike Hancock MP council report will not be published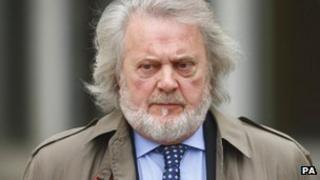 A report which found Liberal Democrat MP Mike Hancock breached a council code of conduct over alleged behaviour towards a "vulnerable" woman, will not be published.
A full meeting of Portsmouth City Council voted not to make the independent report public.
Mr Hancock was arrested in 2010 on suspicion of sexual assault, but was not charged with any offence.
The Portsmouth South MP, who is also a councillor, has denied the allegations.
There were shouts of "shame" from the public gallery when the council vote was announced.
Mr Hancock, who temporarily stood down from the parliamentary Liberal Democrat party in June, is currently involved in a High Court civil dispute over sexual assault allegations made by a female constituent.
The vote by the full council comes after a meeting of the council's standards committee in November which decided not to proceed with any investigation into Mr Hancock until court proceedings have concluded.
The independent report by Nigel Pascoe QC, produced in September 2013 as part of the council's code of conduct investigation, was also given to the police at their request.
Hampshire Constabulary later released a statement saying said it had discussed the case with the Crown Prosecution Service and would not be taking any further action.