BAE job losses: Cameron writes open letter to Portsmouth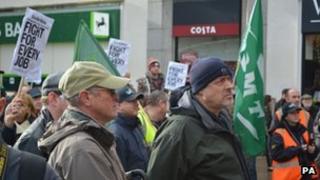 David Cameron has written an open letter to the people of Portsmouth, promising to protect the city's shipyard and workers' livelihoods.
In November, BAE announced more than 900 job losses at the yard.
Published in local newspaper The News, the prime minister's letter said the cost of BAE continuing to build ships in the city was "unaffordable".
The GMB union said the letter was "positive", but wanted to know how Mr Cameron intended to fulfil his promise.
On Thursday, Michael Fallon was appointed Minister for Portsmouth in a move aimed at helping the beleaguered city.
'Not sugar coating'
Mr Cameron wrote: "For centuries shipbuilding in Portsmouth has been woven into the history of Britain.
"It is a tradition of which the whole country is rightly proud - and I completely understand the intensity of feeling here is stronger still.
"I make this pledge to you today: this government will do everything we can to protect the future of the shipyard and the livelihoods of the people who work there.
"In the months ahead we are going to go all out to make sure that it remains strong, successful, and respected around the world.
"I am not sugar coating the challenges ahead but with determination, resolve, and sheer political will, this city can and will come through stronger the other side.
"I promise you that we will do everything in our power to make sure it does."
Gary Cook of the GMB union said: "It's the first positive news we've had since that announcement.
"When the prime minister of our great nation says, 'I make this pledge' - it's very strong language.
"We will look forward to having a discussion with the new minister for Portsmouth to find out how he intends to fulfil the prime minister's pledge."